Bloomington, MN Classes
We are pleased to offer classes at the Bloomington, MN, show on Friday, June 26, 2015.

Each class runs approximately 2 hours.  If you are interested, please phone, email or follow the link for that particular class.  If you have any questions, please contact the company who is giving the class.  Thank you.
1, 2, 3, and Ready to GO!
Instructor – Vicki with Crackerbox Rubber Stamps
Cost $20.00
Description:  Going to a party? Have a birthday party for a guy? Anniversary? We will have a party making these cards! Life is busy and the day has arrived when you are going to a party or a gathering and you haven't made a card yet. Well, we have some ideas that you will be able to use and make a great looking card in a very short time. You'll be able to whip up a card and you'll be ready to get to that party! We have a frog that hops, a gift card holder, a spinner and a different hold PLUS a surprise one!
The cards will all have envelopes and you will make a holder so you can give them as gifts or use them yourself.
Supplies to bring: Adhesive and scissors
To sign up email vbriggs@ymail.com or call 608-755-4638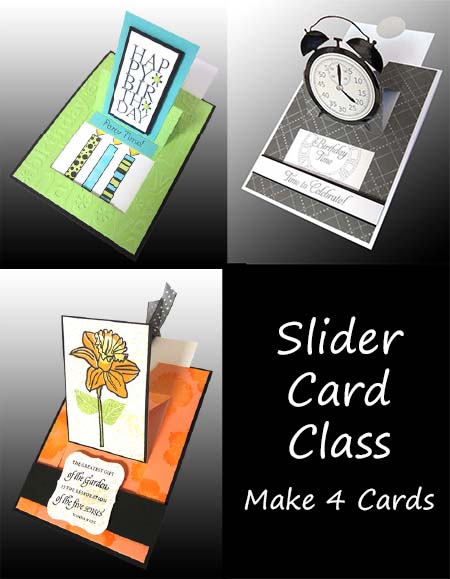 11:30 a.m. – 1:30 p.m.
Mechanical Cards
Instructor – Sarah with The Paper Cut
Cost $30.00
Description:  People love mechanical cards, especially when the card blank is pre-die cut for you. Learn the mechanics of this card, then decorate with stamping or attaching die cut images. This Sliding Pull-Up Card is one of the newest Die Cut Card Kit from The Paper Cut. Pull up on the front of the card and it slides to make the front of your card three- dimensional. We will make 4 different Sliding Cards – you'll have a great time with these sliders to see what the inside reveals.
Supplies to Bring: Scissors and adhesive (need ¼" 2 sided tape or tape runner)
To sign up for the class –
http://thepapercut.com/mm5/merchant.mvc?Screen=PROD&Store_Code=TPC&Product_Code=SLDRCLASS&Category_Code=CLASS
2:00 – 4:30 p.m.
Masking Demystified
Instructor – Darlene with Stampland
Cost $25
Description:  Masking used to be an annoying technique but now, using the art masking tape, you will discover that it is a simple and amazing way to create collages, patterns, and backgrounds. Combining images and layering with the tape will inspire you to use stamps in new exciting ways. Using brushes and art tapes I will teach you how to add depth and dimension to your STAMPLAND images, using the new STAMPLAND templates. These have been laser cut to match the stamp images. You will learn how to create shadows and how to design backgrounds using the templates and brushes. You will meet the "Magic" Bird Cage and learn how to reverse images easily and effectively. See why the lady artist and her easel can be a source of inspiration and fun. Basic coloring advice is also included at no extra charge.
Supplies to bring: A padded stamping surface, colored pencils, a ruler and scissors. A sense of fun is helpful. All other supplies will be provided.
To sign up, please email picassogaglione@gmail.com
Class limit 10 students